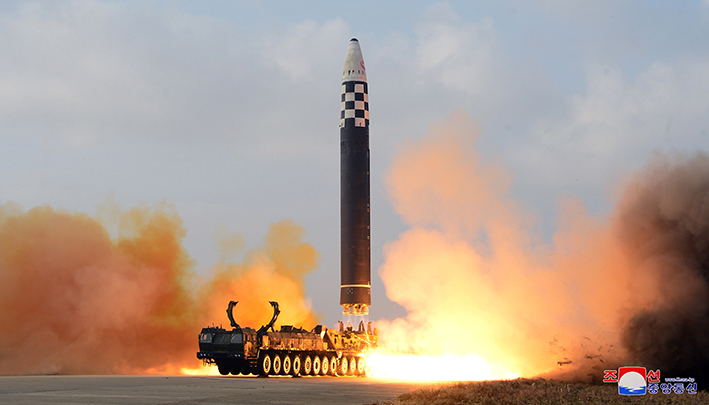 General Secretary Kim Jong Un guides test fire of new-type ICBM of DPRK's strategic forces
The DPRK strategic forces test-fired a new-type ICBM on November 18 amid the strict implementation of the top-priority defence-building strategy of the Workers' Party of Korea and the DPRK government on steadily bolstering up the most powerful and absolute nuclear deterrent.
The test fire was conducted under the intolerable condition that the reckless military confrontational moves of the US and other hostile forces persistently driving the military and political situation on the Korean peninsula to the red line have gone beyond the limit and hypocritical and brigandish sophisms have been justified even in the UN arena to brand the right of a sovereign state to self-defence as provocation in every way.
Kim Jong Un, general secretary of the Workers' Party of Korea and president of the State Affairs of the DPRK, guided the test fire on the spot.
Jo Yong Won, Ri Il Hwan, Jon Hyon Chol, Ri Chung Gil, Kim Jong Sik and other senior officials of the WPK Central Committee watched the test fire in the presence of the General Secretary.