Nothing is always new, coach always seeks new tactics
July 17, 2022
Nothing is always new, coach always seeks new tactics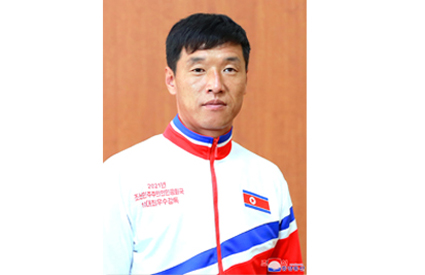 Han Chol Hak has worked as a women's football coach of the April 25 Sports Club for nearly ten years since 2013.
During his career, he led his teams to be always included in the top three at national sporting events and some of his players were selected into the national team.
He drew attention from many football fans at the Seventh Military World Games and the 30th Summer Universiad in 2019.
Though he participated in the events as an assistant coach, he made a substantial contribution to his team's victory by applying new and bold game plans.
"He hates repetition," said footballer Kim Myong Sun. "He believes that a tactic which helped win victory yesterday might bring defeat tomorrow."
In the training ground, Han makes exact demands on players to get familiar with new tactics.
It is the common view of professionals and fans that his strong point is to put the opponent on the defensive by adopting a game plan that makes the most of special skills of individual players.
He was appointed as head coach of women's football team No. 1 in May last year, and now he is doing his best to maintain its reputation as a national power.
He applied a variety of scoring modes appropriately during matches and directed efforts into tactical and individual training in order to raise the success rate of shooting.
According to player Kim Phyong Hwa, he always asks his team to play a fresh and brave match which may be etched in the memory of spectators.
Consequently, the April 25 team left experts and fans with strong impressions by displaying energetic organization and spectacular goals in the last several matches. It snatched gold at the 2020-2021 DPRK Women's Premier League, and midfielder Kim Phyong Hwa was awarded the best player prize and Kim Myong Sun the best goalkeeper prize.
The team won the trophy in the following event again and defended its status as the top team in the country.
Han Chol Hak was chosen as one of the top ten coaches of the DPRK in 2021.
THE PYONGYANG TIMES